Back-to-school season is officially in session, and you're likely heading into the studio with new teachers and a new schedule. To keep your energy revved for the upcoming season, consider preparing a snack plan. Balanced snacks provide the nutrients needed to replenish glycogen, which is your body's preferred source of fuel from carbohydrates. Snacks also help to bridge the time between meals and, when planned accordingly, offer a convenient and enjoyable experience to prevent hangry feelings later in the day.
Whether you're looking for something sweet or savory, these dietitian-approved options are perfect for your upcoming year—and easy to prepare.
1. Sunflower-Butter Dates
Simply slice whole pitted dates and scoop a generous spoonful of sunflower-seed butter inside. You'll get a dose of fiber from the dates, which helps stabilize blood sugar. Sunflower-seed butter is rich in vitamin E, a key antioxidant for your post-performance recovery.
2. Cinnamon Apple Chips
Cinnamon apple chips are easy to prepare and versatile—they're delicious on their own or used in recipes. Apples are rich in energizing carbohydrates and vitamin C, a micronutrient that supports immunity and tissue healing. Don't stress about investing in a food dehydrator. To dehydrate your apple slices in the oven, set it to 200°F. Line two baking pans with parchment paper, and bake your apple slices for two to three hours. Store-bought options are also available and can be purchased in bulk.
3. Carrot Chocolate Chip Blender Muffins
Doubling this recipe will make two dozen muffins, so you'll have plenty of leftovers to take with you to class or rehearsals. They store in the freezer for up to six months and are made with whole-wheat flour for a boost in daily dose of fibrous whole grains. These muffins get their moisture from yogurt, bananas and shredded carrots, which are a rich source of beta carotene, a vitamin that supports vision, immunity and even skin health. The addition of chocolate chips makes for a sweet and fun option.
4. Trail Mix
A simple snack with a not-so-simple nutrient profile! Trail mix is the perfect option for dancers with short breaks between classes. You can experiment with a DIY mix, including nuts, seeds, pretzels, popcorn, coconut shavings, dried fruit and chocolate chips. A premade trail mix is another convenient way to get this snack into your dance bag on the daily. No need to stress about fancy brands. Generic options are cost-effective and often contain the same ingredients as their more expensive competitors.
5. Banana Chocolate Bites
This recipe only requires two ingredients—bananas and chocolate—to craft a sweet treat that can be eaten on its own or mixed into your favorite yogurt. Just slice ripened bananas, dip in melted chocolate and freeze. Bananas are rich in potassium, a mineral that helps to alleviate muscle soreness and ward off cramping. Consider these bites as a refreshing evening snack straight out of your freezer.
6. Pretzels and Hummus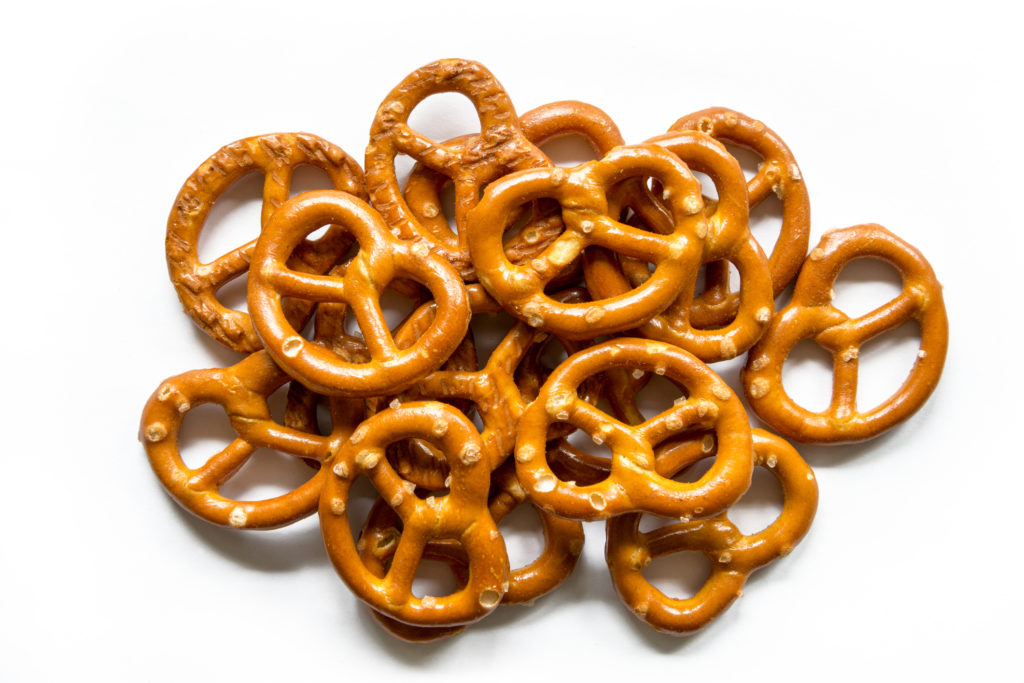 Hummus is a great option to take on the go. Chickpeas are not only a significant source of plant-based protein, but they also offer dancers a dose of iron, phosphorus, calcium and magnesium, all of which contribute to the maintenance of healthy bones. Pair your dip with pretzels, which can help to replenish electrolyte losses from sweat and stimulate the release of insulin to enhance your body's muscular uptake of amino acids after class.
7. No-Bake Oat Bites
These tasty snacks are perfect for dancers with a sweet tooth. Blend 1 cup of rolled oats with a generous spoonful of nut butter and a 1/2-cup of dried pitted dates. Chocolate chips are an optional addition. Roll into balls (about the size of a golf ball) and store in the fridge. Prior to class, pack 3–4 bites to grab between (or during) classes. For dancers navigating nut-free studios, swap nut butter with an allergy-friendly seed butter.
8. Bagel Chips With Spread
Are your bagels getting stale? Slice them into thin rounds and brush the tops with olive oil. You can leave them plain or sprinkle each with a seasoning of choice. For savory chips, try sea salt. For sweet chips, try cinnamon and nutmeg. Bake for 10 minutes at 325°F. When golden, flip the chips, brush on more oil and bake 10 more minutes. Once complete, pair these energizing chips with a high-protein spread, like ricotta, cottage cheese or silken tofu.
9. Turkey Avocado Roll-Ups
Fill a whole-grain wrap with sliced turkey and avocado. Cut your wrap into bite-sized rounds and seal tight. For plant-based wraps, swap turkey with tofu. Avocados are high in the "good for you" type of fat (monounsaturated), which helps with reducing spikes in blood sugar when incorporated as a balanced meal or snack with other foods.
10. Smoothies
Start with a standard base, like yogurt, banana and milk. From there, experiment with additional flavorings, like berries and maple syrup. Oats, avocado, spinach and flax are abundant in nutrients like fiber, omega-3 fatty acids and antioxidants. These additions will not only thicken your smoothie but will also boost its nutrient density. If time is tight, a store-bought shake can be another way to access these benefits.
Rachel Fine, RD, CSSD, CDN