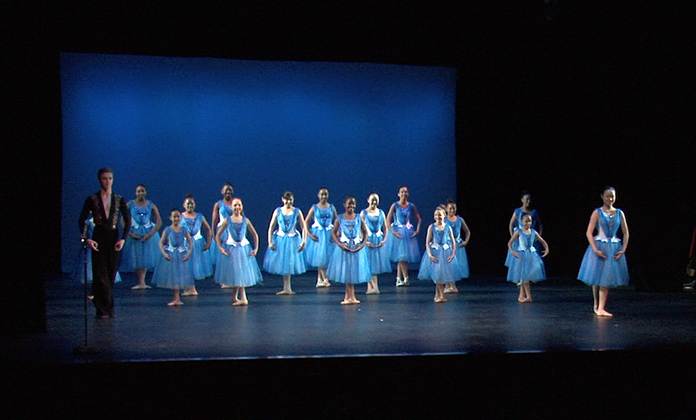 KINDERDANCE
Skill Levels I & II Ages 3 TO 7
Covering preparatory ballet, acrobatics, tap and rhythmic dance, basic skills, coordination and musical adaptation. An experience that teaches social skills, conduct and especially how to be a young student in dance.
JUNIOR COMBINATION CLASSES
Skill Levels I  II  III Ages 6 TO 15
Developing skills and techniques for dance basics in an intermediate level class using lyrical dance, jazz and tap styles accenting and drilling choreographic patterns.
CLASSICAL BALLET & POINTE
• Dance Condition for Ballet Technique - 40 min 
Understanding your body instrument and helping you to cultivate your potential and alignment for dance movement.
• Barre Level 1 - Level 2 - Level 3
These classes are divided into different segments that focus on your core, major muscle groups and tendon conditioning. Barre class is a wonderful foundation for dance and/or athletics.
• Extended Barre Combinations and Variations
Building on Ballet standards.
JAZZ DANCE
Skill Levels I  II  III
Classes include warm up and choreographed combinations for dance performances.
TAP
Warm up with rhythmic drills and techniques, combinations and dance choreography in tap for dance performances. A great exercise for adult beginners.
Course of Study for all levels
DANCE TECHNIQUE
Skill Levels I  II
A class designed to help enrich any dancer's understanding of techniques and develop skills needed to pursue more advanced levels in dance. Conditioning techniques necessary for auditioning or performance goals. Includes jazz, modern dance, afro-cuban & latin dance, theater style, ethnic rhythmic dance, lyrical, middle eastern belly dancing, funk and current trends seen on TV and Broadway musical stages. Classes include warm up, barre, center, across the floor, floor stretch and choreographic combinations.
When enrolling in our DANCE TECHNIQUE a student should consider having basic skill and step patterns enabling them to follow choreographic combinations. A good way to start with if you need the basic skills first is our DANCE EXERCISE CLASS. Consequently, this class can give you the foundation you need on a basic level.
ACROBATIC DANCE AND TUMBLING
Levels I  II  III  IV
Skills for an athletic approach to movement are needed to perform this form of dance. Includes warm up, skill building techniques, stretch and strength exercises with the emphasis on form and the proper approach to safety. Not recommended for the less experienced older adult.
HIP HOP AND FUNK
For Children, Teen & Adults
Current trends of street style and a combination of music video production dance that includes rhythmic movement to the fast paced music of today.
DANCE EXERCISE
For Teen & Adults
Includes warm up and conditioning exercises for the first part of the program and rhythmic dance patterns (Latin, Swing Dance, African, Pop, Middle East Belly Dance, Hip Hop) to music for the second part. A great way to exercise and get in shape. This class is ideal for the dance student since needing to brush up or learn dance and coordination skills may be used in a more advanced class level.
IN CONCLUSION
How to focus, especially for a young student, is the basis of all their learning for performing arts or academics. We approach this with specially designed and structured classes. Select activities are practiced that promote learning and self-discovery for a student.
Classes include exercises in preparation for a specific form of dance with rhythm, coordination flexibility and strength. Build your skill level and develop a pathway for your future.